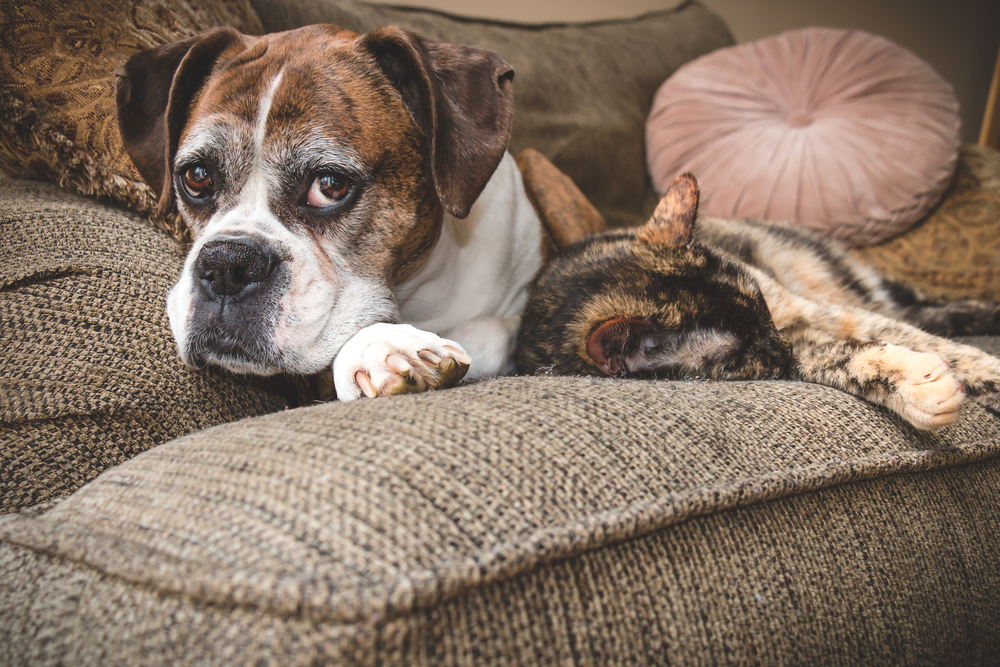 Did you know Osteoarthritis is just as common in our pets as it is in humans? Osteoarthritis is the term used to describe the deterioration of the cartilage in your pet's joints. This can cause them chronic pain, inflammation and stiffness that can make life for your pet difficult if it is not properly managed. During the colder months these symptoms often flare up and cause swelling that can be extra painful. For this reason it is important to give your senior pet a little more TLC on top of your regular care routines. In this blog we'll share tips on how to keep your senior companion happy and comfortable as we head into the winter months.
Staying warm
Keeping your pet warm during winter will help reduce the swelling and aches associated with Osteoarthritis. Little things like giving their bed more padding, or a blanket to curl up with, can make the world of difference for sore joints. Investing in a heating pad that is pet friendly will also help with pain relief and preventing flare-ups. Most indoor pets love to stretch out beside the heater or fireplace so this is a great place to put a fire resistant mat or blanket for them.
If your cat or dog sleeps outside then you will need to provide them with a draught and waterproof kennel that is out of the wind. A thick mattress with blankets and a heating pad will help to make the kennel much more cosy. Remember if your feeling the cold so will your pets!
Exercise
Rain, hail or shine, your pet still need to exercise regularly. While long walks or runs should be avoided, light exercise such as a gentle short walk on a daily basis will keep the joints lubricated and functioning. (As well as keeping your friend alert and entertained)
Jackets and coats can also be utilised when your dog is out in the elements. A jacket that has thermals and is waterproof is ideal. There are even specialised protectors for dogs with Osteoarthritis to help relieve joint pains.
If you're still worried about taking your dog out into the cold (Or prefer not to be out walking in the rain yourself) there are some indoor dog parks in Melbourne that provide a great sheltered play area.
Grooming
Cats suffering from Osteoarthritis often struggle to groom themselves with the same efficiency they demonstrated in their youth. Earlier indicators that your cat may be suffering from arthritis include the skin along the ridge of their spine and base of their tail becoming dry and flaky and the hair becoming dull and matted. This is because it has become too painful for them to stretch around to groom that area. Cats suffering from Osteoarthritis will require regular brushing to help prevent their coats becoming painfully matted.
Home Improvements
Making a few small changes around the home will make life easier for your senior pet. Big steps can be a struggle for pets with Osteoarthritis as well as jumping up on the bed or couch for cuddles. You can give your pet a helping hand by putting up ramps or steps eliminating the need to jump or at least reducing the distance.
Regular Check Ups
In addition to lifestyle adjustments, senior pets suffering from Osteoarthritis need regular visits to the vet to ensure their condition is properly managed. We recommend bringing your senior pet in for a check up every six months to monitor and treat their condition as required. There are a number of inexpensive joint supplements and treatments that we can recommend that will help slow the progression of the arthritis and reduce the inflammation helping to keep your pet happy and comfortable.
To learn more about how we can help or to book your companion in for an appointment please call us on (03) 5995 3444.